DOKU.TECH 2022 | My Face is not a Barcode!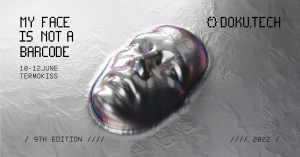 The premiant event for technology in the Balkans is back in 10 to 12 of JUNE 2022 with the theme "My face is not a Barcode" which will explore opportunities and threats of Artificial Intelligence and Data.
At this edition of DOKU.TECH, we will explore some of the opportunities and risks associated with AI such as:
The potential and pitfalls in large scale data collection – protection, use, exclusion

The promise and downsides of automation through AI

Names, Faces, Places – our right to and government's responsibility to protect privacy

Deepfakes & manipulation, identity theft, online extortion

Algorithms supported decision making and algorithmic bias

Narrowing and widening socio-economic inequality

The impact of AI on our everyday lives – education, climate & environment, healthcare, insurance, manufacturing, criminal justice, etc.

Deep learning 
Join us on 10 to 12 JUNE, 2022 at Termokiss. 
Register Now: LINK